Committee Members: Barbara Kinsey, Diane Frattini, Janice Sadowski, Dave Russell, Mike Lavery, Nicole Smith, Gary Pflieger, Diane Billick, The Saint Matthew Family
We meet on the first Wednesday of the month at 7:30 p.m.
Dave Russell has continued to provide new residence lists for the purpose of sending welcome letters and to invite them to join us if they do not have a church family.
The committee organized three new events the Earth Day Clean Up, First Annual Fun Run, and Movie Night. The fun run generated over 300 food items and over a thousand dollars for Loaves and Fishes. On Earth Day, we cleaned up Williams Park (a.k.a. Powell Park) with the help from Girl Scout Troop 5042. The Movie night was a joint venture with Fellowship committee and we watch a great movie about Martin Luther's life during the Reformation.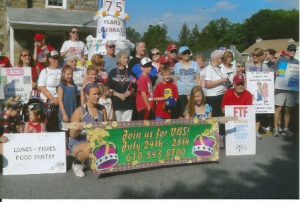 The Fourth of July parade was a huge success because of all of your participation. It was an awesome site to everyone united for the Anniversary. Special thanks to the carpenters for that massive cake.
Nicole Smith has spearheaded rejuvenating the Facebook page. Her efforts during Christmas holiday allowed for our Christmas service schedule to reach approximately 300 people. Follow us and get event notices.
In 2018, the committee hopes to continue all these events through 2018 and update our website and hold a Blood Drive in February. We hope that you all can join us in the future.