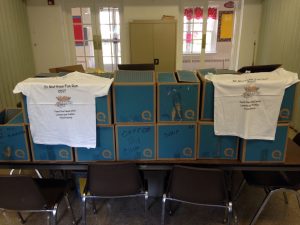 St. Matthew Lutheran Church hosted a Fun Run on June 3, 2017 to stock the shelves of Loaves and Fishes Food Pantry. If you are not familiar with this organization, check out their site: http://delcoloavesandfishes.org/  Although the weather required us to move some of our activities indoors, we were able to get out and do our laps close to the scheduled time.

A great time was had by all and we collected over 200 food items which will be delivered to Loaves and Fishes on Tuesday.  A final accounting including cash donations will follow.
Thank you to all who participated, and a special thank you to our Sponsors:
Roux Associates, Inc. (GOLD)
Brinker Organization (BRONZE)
Rosetree Wellness Center (FRIEND)
Oliver Heating, Cooling, Plumbing, & Electrical (FRIEND)
Brookside Bagels & More (FRIEND)
MyGym Springfield (FRIEND)
If you participated in any way, we would like your feedback.  Please visit https://www.surveymonkey.com/r/RK6329H to leave your comments.